WE ARE A PART OF YOUR COMMUNITY
Below is a list of events, activities and seminars that we are involved in.
June 2019 Events
Free Lunch & Learn Seminars - June 5 or June 20
Jun 5, 2019 11:30 AM to Jun 5, 2019 12:30 PM
We've made Pre-Planning simple! Come join us for a free Lunch & Learn seminar on June 5 or June 20 at 11:30am at Cherokee Cattle Company in Marietta. We'll answer all the questions you may have about funerals, cremations and planning a memorial for yourself or a loved one. We'll also explain our affordable Traditional Funeral Packages and Cremation Packages and tell you HOW you can save money and experience peace of mind by planning in advance. RSVP for Lunch & Learns in advance; space is limited. Please call 770.919.7100 to reserve your space.
Lunches will be held at: Cherokee Cattle Company, 2710 Canton Rd., Marietta, GA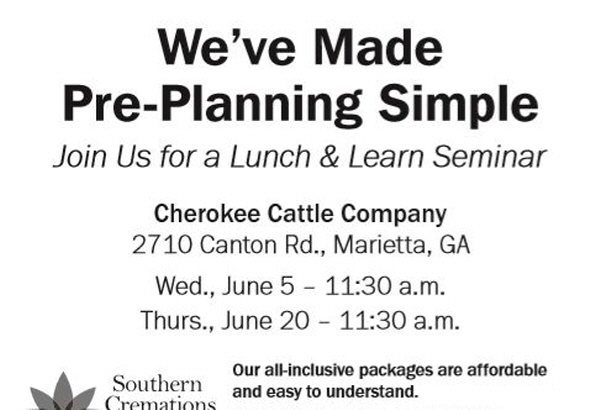 Free Grief Support Group
Jun 20, 2019 07:00 PM to Jun 20, 2019 08:30 PM
Our next Grief Support Group will be on June 20, 2019 at 7pm.
A complimentary Grief Support Group is held the Third Thursday of each month from 7pm – 8:30pm in the Columbarium on the grounds of Southern Cremations & Funerals at Cheatham Hill at 1861 Dallas Highway SW in Marietta. (After you turn into the grounds, turn left. The Columbarium is the big red building on the hill.) There is no cost to attend and adults aged 18+ are invited to participate.
The group is lead by Michelle Nelson, a Licensed Social Worker, with several years of experience in counseling and guiding individuals through grief issues. Anyone in the community that is struggling with grief over the loss of a loved one is invited to attend. You are welcome to bring a friend or loved one with you. No registration is required. For more information, call (770) 919-7100.